Marco has redefined slit lamp imaging by combining a new intra-optics beam-splitter/camera adapter with the tremendous computing and imaging power of the latest Apple® Technology. Together they create a highly sophisticated "mainstream" imaging system that emphasizes image quality, simplicity and efficiency.
Imagine combining all of the bulky components (digital camera, adapter, computer, monitor, multiple cables, keyboard, mouse, etc.) of the traditional photo slit lamp, into one sleek, attractive all-in-one device, all at your fingertips, never having to leave your slit lamp. Its function allows us to respect and remain consistent with, the fundamental slit lamp examination process –without compromise or disruption. Introducing 'ion Imaging' from Marco.
EMPOWERMENT Delivering your diagnosis – as you make it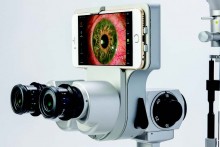 intuitive
The world's best known and most user friendly OS
Simple but powerful proprietary Slit Lamp Imaging
App designed by Ophthalmic Photographers
Touch, click or tap to capture high resolution video
or still images
Diagnose, image, integrate & educate in seconds
Educate your patients using the latest technology
(Apple TV or Mirroring App)
Update software via the App Store
Ergonomic "All-in-One" design (eliminating bulky
cables, PC, monitor, keyboard, mouse and software)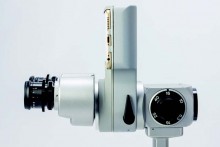 optimized
All controls at your fingertips in heads-up display
App specifically designed for Anterior Segment Imaging with patient demographics
Speed of acquisition, integration to network and education for patients
Unique "intra-optics" beam-splitter/adapter/mount
Accommodates most "parallel style" slit lamps
Harnessing the power of Apple with its exclusive HDR, "Focus Pixel" technology & more
Sleek non-intrusive design
Enhanced clinical workflow by decreasing disruptions
Respects the fundamental SL examination process – without compromise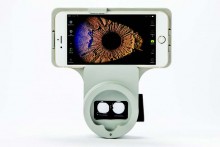 networked
Images instantly available to your EHR or PACS
Image in every exam room
Wirelessly display your images on your exam room monitors
Share images rapidly
Archive, view, and share images immediately in the Cloud
Bluetooth foot control or joystick capture
An App dedicated to Anterior Segment Imaging that includes: patient demographics, pre-set photography modes maximizing the various lighting techniques for video or still images, auto storage to the Cloud, local network for EMR or PACS integration.
A system that you will want in every exam room, not missing the opportunity to capture, integrate and educate every diagnosis.
Ion Slit Lamps Compatibility:
Marco: Ultra G2, G4, G5 & G5-Zoom
Topcon: SL-D2, SL-D4, SL-D7, SL-2ED, SL-7E, SL-2G
Reichert: Xcel 255, 400 & 700
Zeiss: 100/16, 20SL & 30SL
Woodlyn: HR3; HR5 or SL9803x,
Elan 3 & Elan 5 Slit Lamps
CSO: SL990 & 9900(LED); SL980 & 9800
Haag Streit: BQ 900
Burton: 2000
Specifications
Hardware
Type Intra-Optics Beam-Splitter/Adapter
Beam-Splitter 2-Position Lever; Down=100% to oculars; Up=70% to Camera/30% to oculars
Dimensions 7" x 2.5" x 6.5
Weight 4 lbs
Image Capture via Bluetooth activated Foot-Switch or Joystick Button (Marco Slit Lamps only)
Camera* Apple® iSight 8MP/1.5µ pixels (iPhone 6 Plus) or 12MP/1.22µ pixels (iPhone 6S Plus)
Display Apple® Retina HD Display; 5.5-Inch Diagonal LED Backlit
Camera Resolution 1920 x 1080 Pixels at 401ppi
Video Resolution/FPS 1080p HD video recording (30 fps or 60 fps)
Contrast Ratio 1300/1
Processor A8 (6 Plus) & A9 (6S Plus) chip with 64-bit architecture
Software
Operating System* Apple® iOS 9
Export To Local Network; Cloud Storage & iOS/Photos
Capture Modes Still image or HD Video
Security HIPPA Compliant; Password Protected; AES Encryption
Imaging Technology* Apple®'s HDR, Focus Pixel, Optical Image Stabilization technology
Networking* Via Wi-Fi Connection
Included in the Box ion Beam Splitter/Adapter, ion Imaging App, Bluetooth Control Unit, Power Adapter with 2-USB ports, 6' USB Cable, Footswitch with 10' Cable, 10' Lightning iPhone Charging Cable, 10 Adhesive Cable Tie Mounts, 14 4" Cable Ties, 2 1" x 1" Adhesive Velcro and 2 Vinyl Lens Covers
*The Apple® iPhone is neither supplied by Marco, nor included in the price of the ion imaging system